Micronauts Prototype Hornetroid
All photos and information supplied by Ray Miller
Before it hits the shelves, a toy goes through many stages, collectors often are able to pick things up from early catalog pictures or packaging but more often than not, the information doesn't exist. Below Ray Miller has done an exhaustive search to provide us with a fascinating look at the progression of the Micronauts Hornetroid vehicle.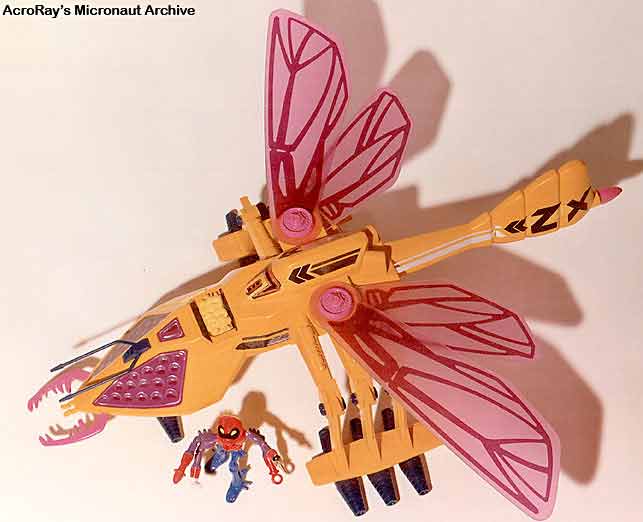 Above is a file photo of the original as-yet-unnamed Hornetroid prototype (and the original Antron prototype!), from the California R & D Center - the west coast toymaking and licensing company that represented Takara during their relationship with Mego. Cal R & D was asked by Mego to provide some more 'western' style toys for the Micronauts line. This toy was developed by Stephen Lee (who would later develop some of the earliest Teenage Mutant Ninja Turtle toys, and robotic vehicles for Playmates' EXO-SQUAD toy line), and modeled by Ashley Howden in the early months of 1978. Notice that the toy has a glowing brain of its own, a missile-launching stinger in its tail, and some additional details and textures on its surface. This prototype is made from wood and plastic. A keen eye may also notice that it is a bit larger than Mego's toy! This single prototype model was then sent to Mego.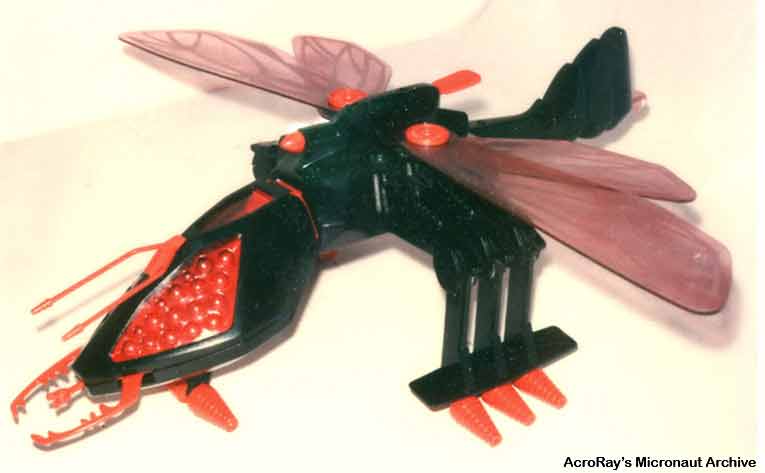 "Above is a Polaroid instamatic file photo of the Cal R & D prototype - tentatively dubbed the "Dragon Fly" - under additional development by the HMS Company in Pennsylvania. HMS has modified the prototype toy for Mego. In addition to changing the color, the robotic vehicle's glowing brain has been removed, as has the inward-pointing rocket engine 'toes'. The tail's stinger has been moved to the top of the body, and the spot on the tail now has a what appears to be a piece of clear tooled Lucite in its place.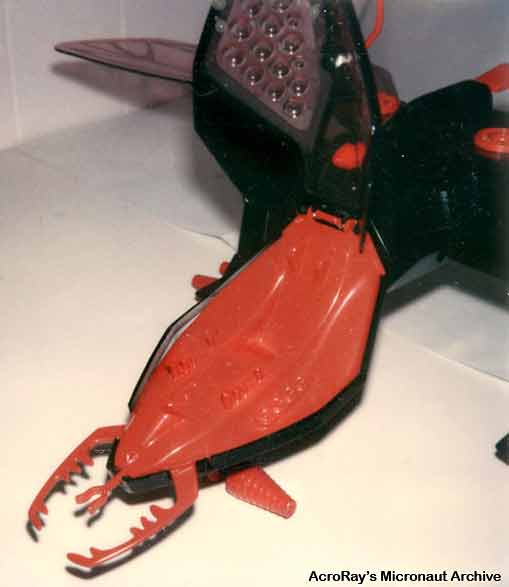 The cockpit photo above illustrates how the head has been remodeled by HMS into an opening cockpit with a seat and hand controls that fit a typical Micronaut figure. Notice how white plastic shows through the black paint on right rim of the cockpit? The modified head was probably vacu-formed around the wood & plastic. The head now also has transparent eye panels, as the original model only featured hand-drawn decals standing in for that feature.
This model - repainted and modified in various additional stages - can be followed through Mego packaging and catalog photography by observant Micronaut collectors. Mego added and removed various additional missile launching - and possibly electronic - features up until the toy was committed to the assembly line. It also lost as much as 10 percent of its scale during development, as the final product doesn't actually accommodate a Micronaut Alien pilot very well!
Look for a detailed article from AcroRay's Laboratory in the near future. For similar details and a rare look at the Terraphant, please read AcroRay's Lab Report "The Evolution of Terraphant"